Bikes & Coffee aren't exactly two things you'd associate together but one person has in Belleville, Ontario and somehow it has worked as a unique experience.
Co-Owners Adam Tilley and Laura Voskamp have combined two of Adam's passions together into one. Doesn't that seem familiar to a certain blogger that you're reading right now? *points to self* When those two passions combine, we get, "The Brake Room".
While the combination seems odd at first, you can empathize with them as I'm sure many of us have multiple passions that are unrelated. I personally enjoy this approach as you'll never have to doubt the heart and effort that goes into a business like this. You know the owners are passionate about what they do and enjoy.
When you enter the place, one side looks like a trendy and casual atmosphere. There are skids painted with graffiti tags that gives it that edgy feeling, it speaks to me as if they're trying to say, "We're cool, awesome AND give great business!"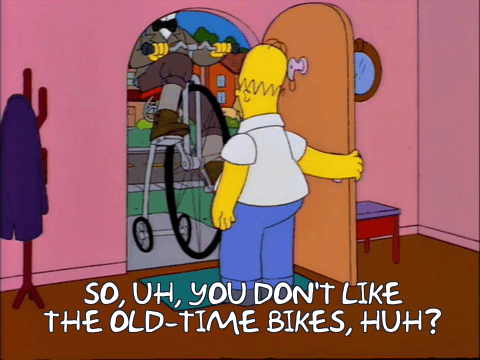 The other side gives it that rustic feeling. It's very simple yet sets the atmosphere so well. I would say it's like a workshop but it actually is one! The have a mechanic on staff in Caleb Murray who's there to help with all your biking needs. They sell bikes (including parts and accessories), do repairs, safety diagnoses and maintenance.
There are a lot of healthy food options available and they sell beer! Yeah, this place is liquor licensed so I could get my day drink on if I really wanted to. The beers sold are brewed from MacKinnon Brothers Brewing located in Bath, Ont. and Parsons Brewing Company in Picton, Ont. Both are local breweries that no more than an hour drive away from Belleville. Good to see that the beer is locally sourced, I always appreciated local businesses helping each other out.
I chose not to order any meals and I already had a lunch for my that day but I couldn't help but at least order a snack and some coffee. The array of snacks are so visually appealing. It looks beautiful and delectable! I almost wanted to take the whole thing with me! The snacks however are not made in-house but by a catering company owned by Picnic PEC Catering owned by Rebecca Hunt.
I decided to order two energy balls, and the 3 oz macchiato. I personally enjoy fruit/fruit flavoured sweets over something more chocolatey or nutty. The energy balls are small in size but definitely do not lack in taste or volume! I'm pretty sure I bit into each one about four times to finally consume one because of how much is actually compressed into a ball.
Delicious, rich, hearty and a very natural feeling. Everything in the ball is so subtle yet when combined, gives off this tremendous flavour that makes you savour each bite. $3.00 may sound like a lot from the size but when you nourish it slowly and let the flavours speak to your tongue, it's a burst or flavour! I definitely do not recommend popping an entire one in your mouth as you could with donuts of that size. Definitely worth a try and then some!
The macchiato came out in this cute little coffee cup that even a child's tea set cup would be bigger. The coffee itself was robust and bitter though as I got older, I've seem to embrace bitterness as I did this drink. Granted, I'm not the biggest coffee drinker (I am almost immune to caffeine) but it definitely was a nice treat to get here and there.
Eventually I'll go back there for a sandwich even though I did snag one bite from my classmate. One bite to me won't do justice for a proper evaluation though the coffee and snacks are for sure I'll treat myself to in the near-future. The sweets were phenomenal and I may have to make a visit to Picnic PEC Catering very soon to get the lowdown on what they're about. *possible foreshadowing*